Okinawa Churaumi Aquarium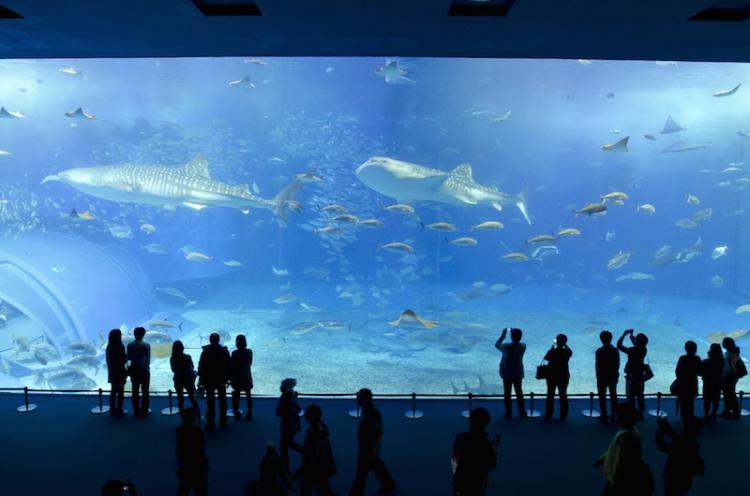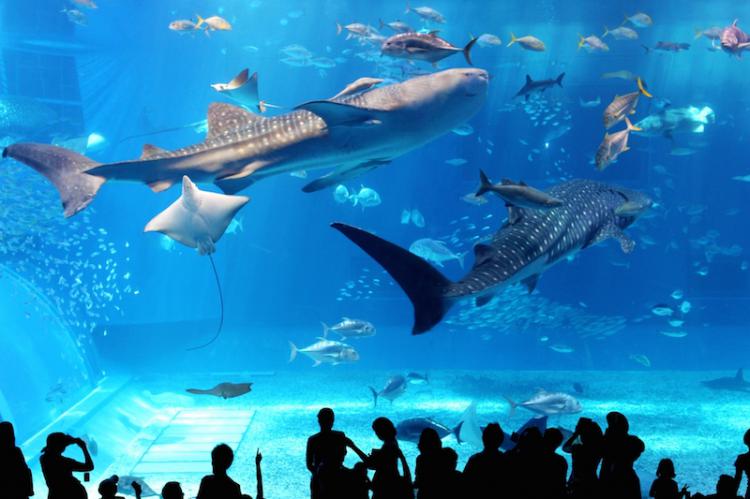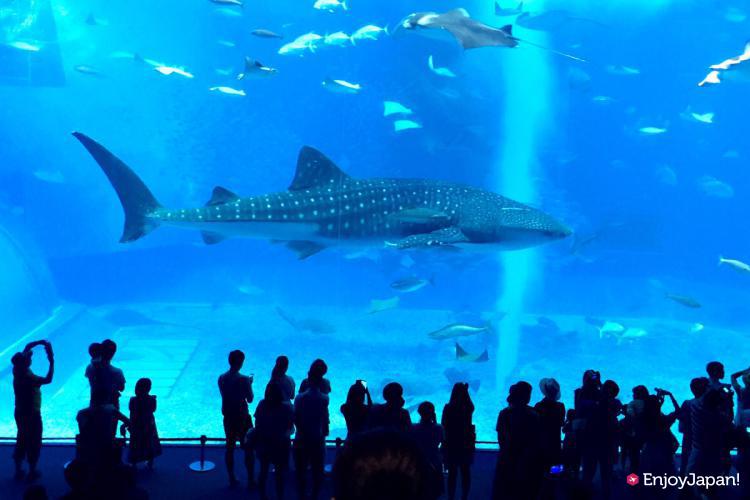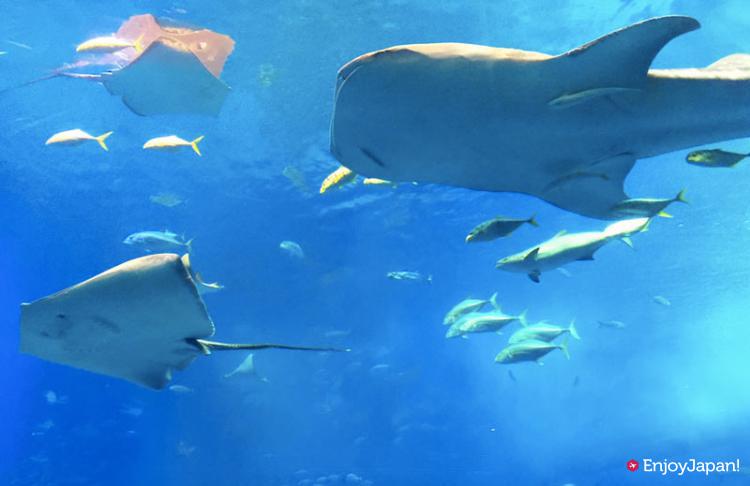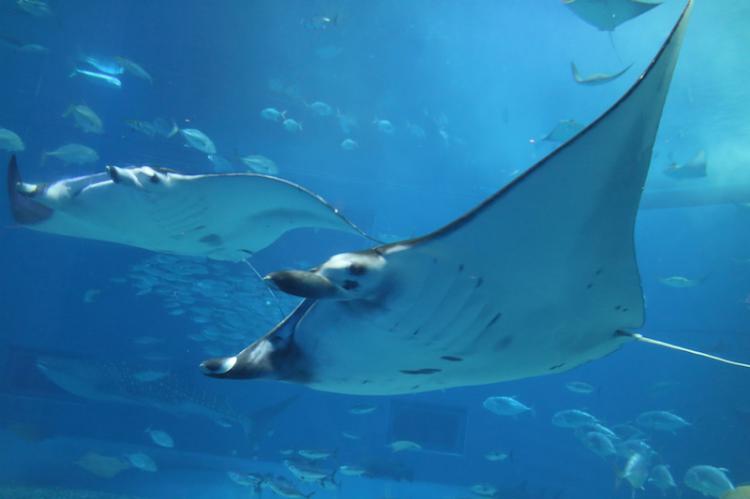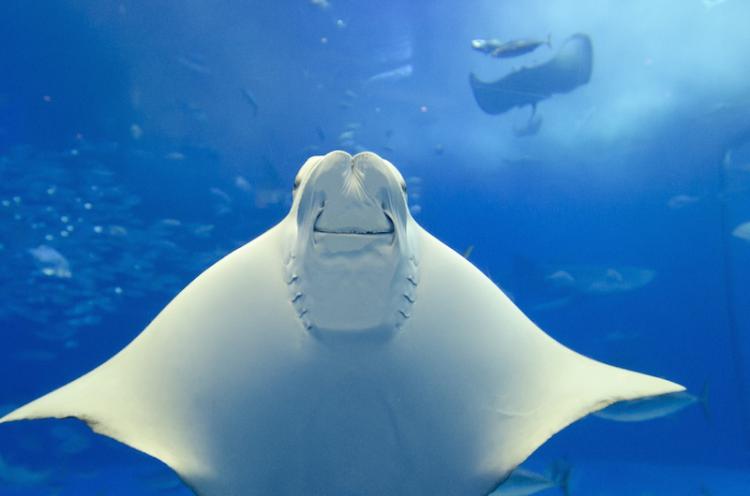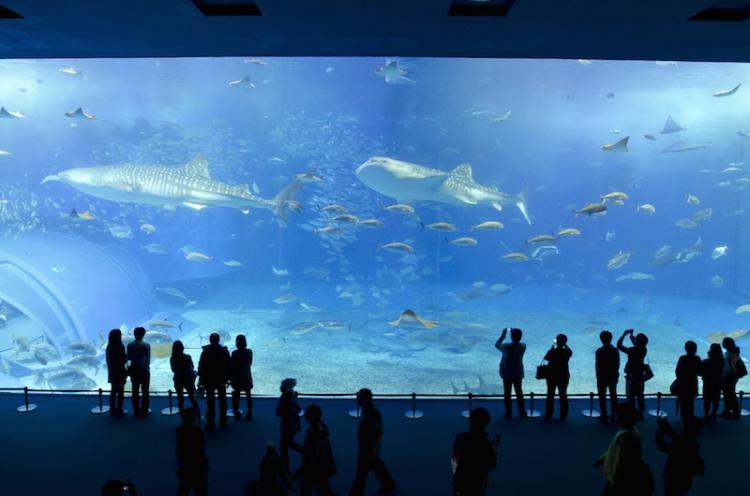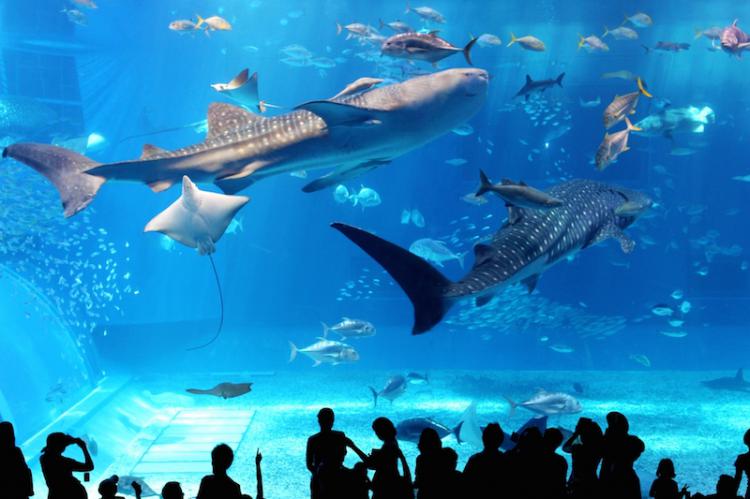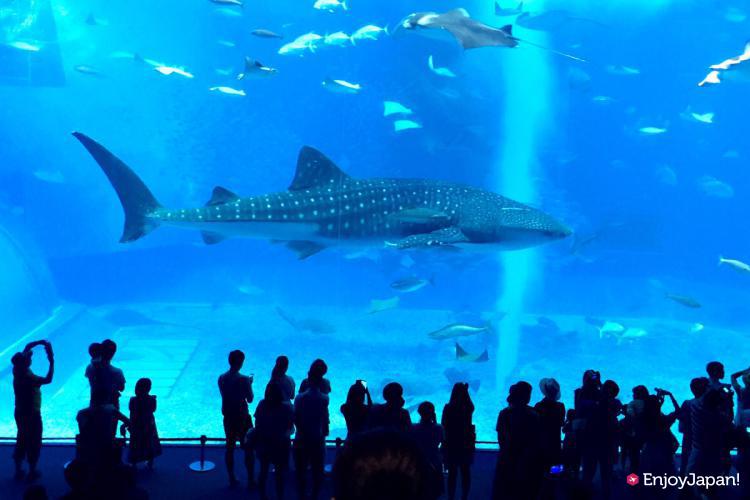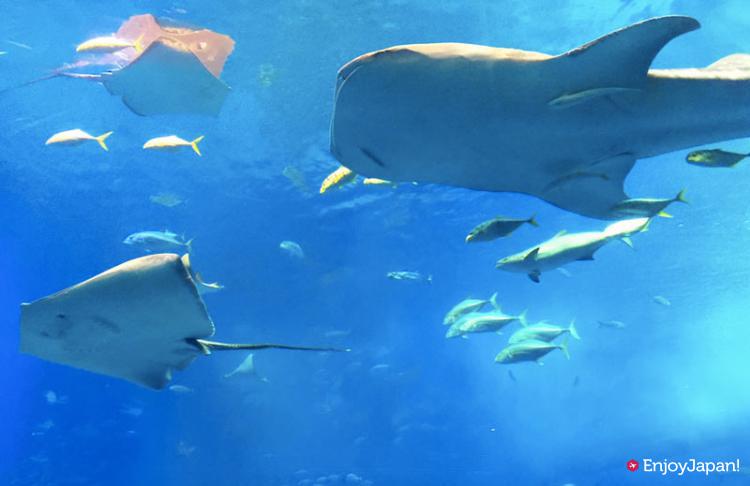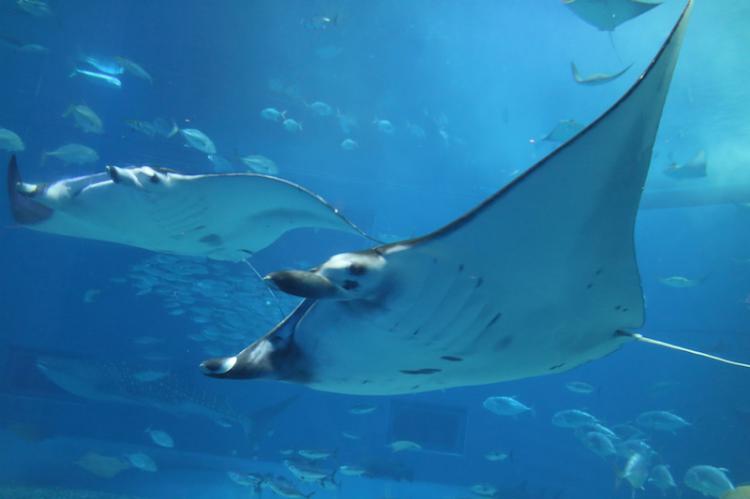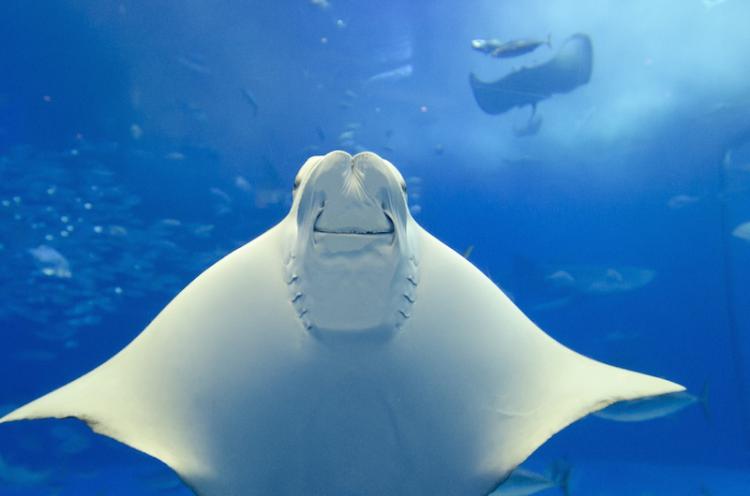 Basic and usuful information
Basic information
Name
Okinawa Churaumi Aquarium
Name(Japanese)
沖縄 美ら海水族館
Postal code
905-0206
Address
沖縄県国頭郡本部町字石川424番地
Telephone number
0980-48-3748
Open hours
●Regular Season(October〜February)

8:30 〜 18:30 ※Last Admission at 17:30

●Summer Season(March〜September)

8:30 〜 20:00 ※Last Admission at 19:00 
Regular closing day
Closed on first Wednesday and the next day (Thursday) in December
Price
●Admission Fee

Regular Tickets

・Adult /1850 yen
・Student(High School)/1230 yen
・Child(Elementary/Juior High School)/610 yen
・Under 6 years old/Free

After 4pm Ticket(16:00〜Last Admission time)

・Adult /1290 yen
・Student(High School)/860 yen
・Child(Elementary/Juior High School)/430 yen
・Under 6 years old/Free

●Annual Pass

・Adult /3700 yen
・Student(High School)/2460 yen
・Child(Elementary/Juior High School)/1220 yen
・Under 6 years old/Free

Official web site
https://churaumi.okinawa/
Useful information
Credit Card
Available
Supported card company
VISA, Master, American Express, JCB, Diner's Club, DC Card, TS3, J-Debit

●Electric Money payment is accepted as well.

Edy, QUICPay, nanaco, WAON
Within a 10 minute walk from the station
×
Infromation for Free Wi-Fi
n/a
Foreign language
English
Korean
Chinese

Average time required
About 1 hour -
Purpose
Alone
Couple
Family
Friend
Group

Accept Children
○
Child policy
・Baby stroller rental service available. (free of charge)
・"Nursing Room" for babies is available near the Chura-umi Aquarium entrance, and diapers are avaiable with charge.
Handicap-accessible
・Electric Wheelchair available for rent. (Free of charge)
・Most facilities are wheelchair accessible.
・"Pavilion Pamphlets" and "Enlarged Character Pamphlets" are available.
・"Braille Printed Pamphlets" and "Audio Tour Device (Free of charge, reservation required) are available.
・Parking area for disabled is available.

Smoking
No smoking

Other useful information
・Coin Operated Lockers

There are Lockers available just inside the entrance of Chura-umi Aquarium.
※Fee:Large Locker/300 yen、Small Locker/100 yen

・Bank ATM is located near the entrance.
・Showing admission ticket for Chura-umi Aquarium will receive half price off of the admission for Tropical Dream Center located in Ocean Expo Park (Kaiyo-haku Park).

Experience the dynamic ocean world! Watch whale sharks swimming in one of the largest aquarium tank in the world! Enjoy Chura-umi Aquarium to your heart's content!
Quote:instagram/hj_mom_ambiさん
When speaking of popular sightseeing spots in Okinawa mainisland, "Okinawa Chura-umi Aquarium" is sure to be mentioned.
It is one of the main facilities in the Ocean Expo Park, located in the north area of Okinawa mainisland (i Motobu Peninsula). It is a very popular sightseeing spot where many Okinawa lovers from Japan and from abroad visit.
Why is "Okinawa Chura-umi Aquarium" so popular?
It is because, more than anything, of its large scale.
It has world's largest size of aquarium tank and their aquarium reproduces the ocean around Okinawa to exhibit many kinds of creatures that live in the Okinawan sea.
Among the many hightlights of the aquarium, the most must-see is the large aquarium tank, one of the most largest in the world called "Ocean of Black Current (Kuroshio no Umi)." In this aquarium tank, you will see differnt kinds of fish such as "whale sharks" and "mantas" swimming leisurely, which is a very amazing sight.
You can view inside the astonishing ly large aquarium tank from the front, also from the bottom, from the sides, and from different angles, it is a very interesting experience to view all kinds of fish from many different viewpoints.
Of course, there are other countless fascinating highlights, too!
Others include the fascinating "Coral Ocean" where they raise and exhibit corals in a big scale, and the "Abyssal Ocean" where you can view their rare and precious fishes of deep sea , which is a mystical view. In addition, the fun at Chura-umi Aquarium does not only happen in-door. There are attractions such as dolphin shows called "Okichan Theatre," or a Dolphin viewing area called "Dolphin Lagoon," and there are also various special experience programs such as close-up viewing of Sea Turtles and Manatees.
At Chura-umi Aquarium, there are total of 77 aquarium tanks, and about 740 kinds of fishes, counting 21,000 creatures inhabit in the large-scale aquarium.
Here are the highlights of "Okinawa Chura-umi Aquarium" where people of all ages and all groups, from friends, couples, families of all ages, will be delighted and will enjoy.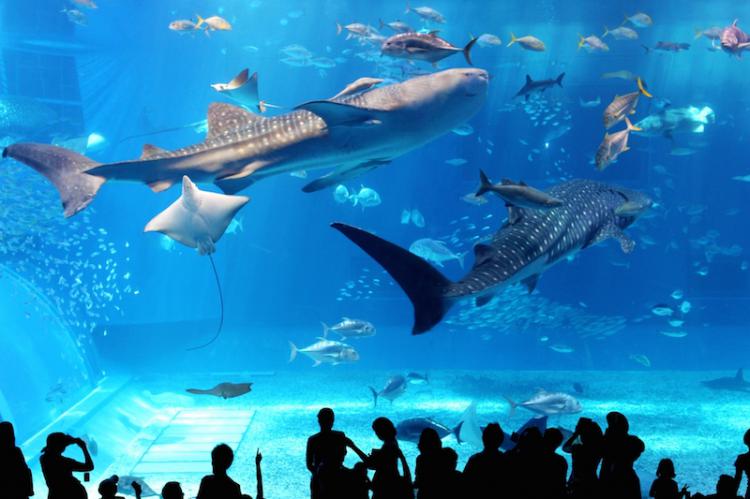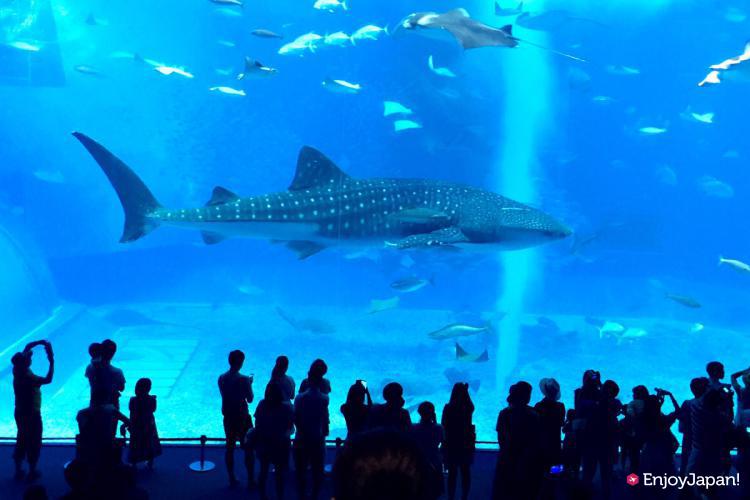 Multiple numbers of Whale Shark are swimming around in the giant tank "Kuroshio no Umi."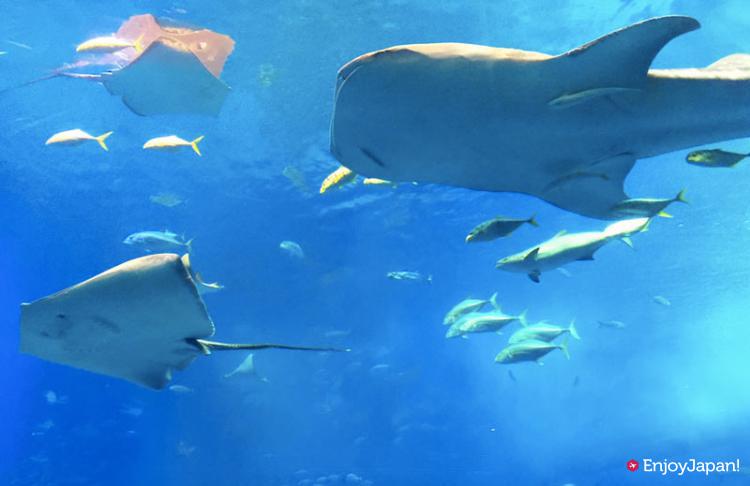 In the giant tank "Kuroshio no Umi, " not only Whale Sharks, but also South Sea Mantas are swiming with their amazingly enormous sizes, you will be astonished with the scene.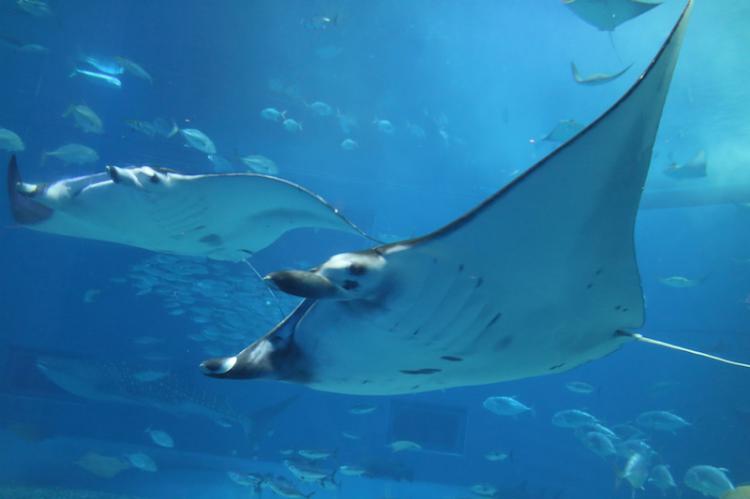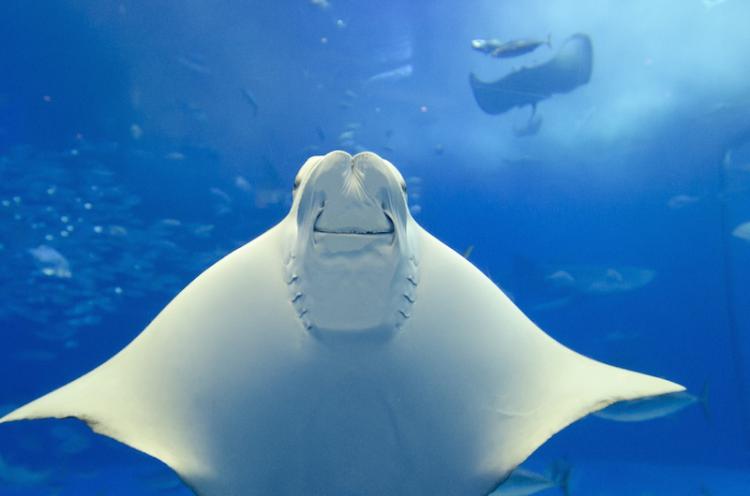 This is the view of South Sea Manta swimming around.
Access information
Postal code
905-0206
Address
沖縄県国頭郡本部町字石川424番地
Telephone number
0980-48-3748
Parking
Yes
Detail information about parking
Parking fee in Ocean Expo Park, including Chura-umi Aquarium, is free.

※There are total of 9 parking areas in the park, and to access to Chura-umi Aquarium, please use "North Gate Parking (P7 multi-story parking garage).

▶Please refer here for detailed parking information
Access informtaion (by train & bus)
●From Naha Airport by Bus

・"About 2 hours and 20 minutes - about 3 hours " from Naha Airport

●From Naha Airport by Express Bus (Convenient access)

・Take Express Bus "No.111" from Naha Airport to Nago Bus Terminal, transfer to bus "No.65・66・70" and off at "Kinen Koen Mae (in front of the Memorial Park). Total traveling time: about 3 hours.

・Direct bus from Naha Airport "Yambaru Kuko Bus (Yambaru Airport Bus)" to "Kinen Koen Mae." Total time: about 2 hours and 20 minutes.

▶Please refer here for bus schedule.
Access information (by car)
・From Naha city using highway: about 2 hours
・From Naha city using local road: about 3 hours

●From Naha city using Rental cars

・Take Okinawa Expressway, exit at "Kyoda" IC and take local road, take National Route 58, National Route 449, and Prefectural Route 114 to Churaumi Aquarium.


Okinawa Churaumi Aquarium
Send this information by e-mail
Please click "Send" after enter your e-mail address.
@
If you block spam emails on the mobile phone.
※Please set your mobile phone so that you can receive mails from
"@enjoy-jp.net"
in the domain email reception options beforehand.
Date created:2017/03/10

Last update:2017/03/10
Most Recent Sightseeing category spots