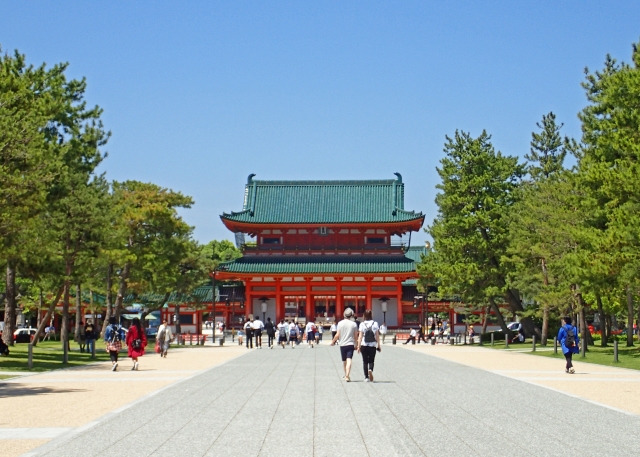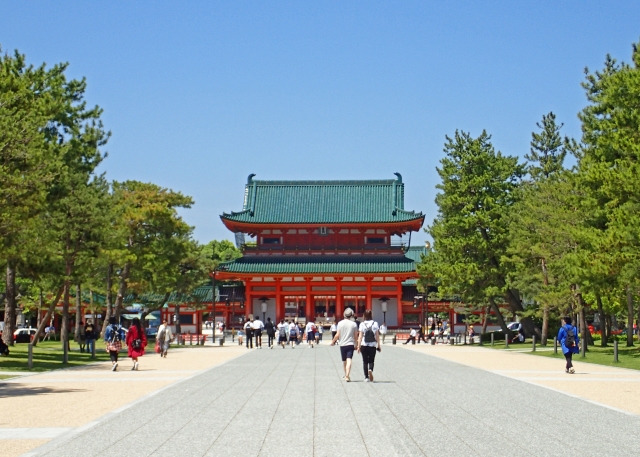 Basic and usuful information
Basic information
Name
HEIAN JINGU Shrine
Name(Japanese)
平安神宮
Postal code
606-8341
Address
Nishi-tenno-cho Okazaki, Sakyo-ku, Kyoto city, Kyoto-fu
Telephone number
075-761-0221
Open hours
●November 1st - February 14th

・Admission to Precincts/6:00 〜 17:00
・Shrine Viewing/8:30 〜 16:30

●December 15th - March 14th

・Admission to Precincts/6:00 〜 17:30
・Shrine Viewing/8:30 〜 16:30

●March 15th - September 30th

・Admission to Precincts/6:00 〜 18:00
・Shrine Viewing/8:30 〜 17:30

●October 1st - October 31st

・Admission to Precincts/6:00 〜 17:30
・Shrine Viewing/8:30 〜 17:00

※On October 22nd, open until 12:00 due to the festival.

●December 31st- January 5th

・Admission to Precincts/6:00 〜 17:00

- Dec 31st〜Jan 1st: all night 〜 20:00
- Jan 2nd, 3rd: 6:00 〜 19:30
- Jan 4th, 5th: 6:00 〜 18:30
Regular closing day
n/a
※Closed in the afternoon for public due to a festival.
Price
Free admission to precincts.

※Admission fee for shrine gardens

・Adult/600yen
・Child/300yen
Official web site
http://www.heianjingu.or.jp/
Useful information
Credit Card
Not available
Supported card company
ー
Within a 10 minute walk from the station
○
Infromation for Free Wi-Fi
ー
Foreign language
English
Korean
Chinese

Average time required
about 30 minutes -
Purpose
Alone
Couple
Family
Friend
Group

Accept Children
○
Child policy
n/a
Handicap-accessible
・Wheelchair accessible restrooms available.
・Service dogs allowed.
・Wheelchair access into shrine available.
Smoking
No smoking

Value coupon
No
Other useful information
・Every year on October 22nd, one of Kyoto's three major festivals "JIDAI MATSURI" is held.
"HEIAN JINGU" is a famous shrine for "JIDAI MATSURI," one of the Three Major Festivals of Kyoto, wedding ceremonies, and SHICHIGOSAN! It is told to be a sacred spot for special prayers, many visitors come to pray to make their wishes come true. Also, there are many things to see such as the SHIDAREZAKURA (weeping cherry tree) that blooms beautifully in spring.
"HEIAN JINGU" is located in Okazaki area in Kyoto city.
In the neighborhood, there are many temples and shrines such as
NANZENJI
、
GINKAKUJI (JISHOJI)
、CHIONIN
YASAKA JINJA
which represent Kyoto, and HEIAN JINGU is one of the most prestigious. It is a very famous sightseeing spot where many people visit throughout the year.
The first structure that capture our eyes is the beautiful vermilion OTORII (a large gateway) at the entrance.
HEIAN JINGU was built in 1895 (Meiji 28) for the 1100th year celebration of the transfer of capital to Kyoto in Heian era. It is rather a newer structure among the historical temples and shrines in Kyoto.
Although it is a rather newer shrine, there are structures designated as Important Cultural Heritage in the precincts that many people started visiting to appreciate them.
Also, it is famous for "JIDAI MATSURI" which is one of Kyoto's Three Major Festivals along with
"GION MATURI" at YASAKA JINJA
and "AOI MATSURI (KAMO MATSURI) " at SHIMOGAMO JINJA and KAMIGAMO JINJA. The "JIDAI MATSURI" is held every year on October 22nd.
Local residents are familiar with the shrine for "wedding ceremonies" and "SHICHIGOSAN (celebration of three, five, and seven years old), and there are many families visiting during the SHICHIGOSAN season in November every year. On good days on holidays and weekends, you may be able to see brides in the precincts dressed in beautiful, pure white Kimono.
In addition, HEIAN JINGU is famous for being one of Kyoto's best cherry blossom spots
Especially in the shrine garden, the "BENI SHIDARE ZAKURA (weeping red cherry trees), which is depicted in the famous novel "SASAME YUKI" by TANIZAKI JUN-ICHIRO, blooms very beautifully.
"SAKON NO SAKURA" in front of DAIGKUDEN is famous as well, and the pink of cherry bossoms and the blue of sky, the red of the shrine create a gorgeous collaboration.
During the cherry blossom season, there is an illumination event that lights up the cherry blossoms, you will be able to enjoy an illusional atomosphere, very different compared to daytime.
HEIAN JINGU is also popular for being the sacred place for special prayers for "happy marriage," "good fortune," "prosperous business," "warding off of evil," and "accomplishment of school work." The lovely original OMAMORI charms sold at HEIAN JINGU has become a popular souvenir.
"HEIAN JINGU" is full of the atomosphere of HEIAN period, you will be able to experience the good and old days of Kyoto.
Here are the detailed information of HEIAN JINGU.
Access information
Postal code
606-8341
Address
Nishi-tenno-cho Okazaki, Sakyo-ku, Kyoto city, Kyoto-fu
Telephone number
075-761-0221
Parking
No
Detail information about parking
※Coin operated parking lots are available in the area.

- Kyoto Municipal Okazaki Park Parking
- MIYAKO MESSE Kyoto city Kangyokan Parking
etc.

Access informtaion (by train & bus)
(Train)
・Kyoto Municipal Subway Tozai Line "Higashiyama" station: 10 minutes' walk
・Keihan Train "Jingu Marutamachi-eki" station : 15 minutes' walk

(Bus)
・From JR "Kyoto" station, take Kyoto Municipal Bus "5" or "100" to "Okazaki Koen Bijutukan/Heian JIngu Mae" which will take you to the front of HEIAN JINGU.
・From Hankyu Train "Kawara machi" station, take Kyoto Municipal Bus "5," "46," or "32" to "Okazaki Koen Bijutukan/Heian Jingu Mae" or "Okazaki Koen/Rohm Theatre Kyoto/Miyako Messe Mae" which would take you to the front of HEIAN JINGU.
Access information (by car)
(Car)
・From Nagoya area
Take Meishin Expressway to "Kyoto HIgashi"IC, about 15-20 minutes from the IC

・From Osaka area
Take Meishin Expressway to "Kyoto Minami" IC, about 20-25 minutes from the IC

HEIAN JINGU Shrine
Send this information by e-mail
Please click "Send" after enter your e-mail address.
@
If you block spam emails on the mobile phone.
※Please set your mobile phone so that you can receive mails from
"@enjoy-jp.net"
in the domain email reception options beforehand.
Date created:2017/02/10

Last update:2017/02/10
Most Recent Sightseeing category spots